Hogan's Heroes TV Series Complete DVD Box Set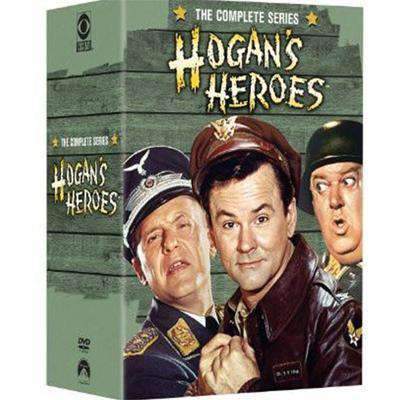 Hogan's Heroes TV Series Complete DVD Box Set
Includes every episode from the entire TV Series!
120 Day Return Policy

Satisfaction Guaranteed

This Item is Brand New and Still Sealed.

Ships from our warehouse in Phoenix, Arizona.

This item is in regular DVD format
Enjoy the tickling adventures of a ragtag team of POWs who turn a German prison camp into a secret headquarter for their outrageous espionage missions. This classic collection consists of 168 unforgettable episodes from 6 seasons of Hogan's Heroes. The Complete Series focuses on Stalag 13, a camp set aside for U.S. resistance fighters. Starring Bob Crane, Werner Klemperer and John Banner, it is an award-winning sitcom.
Closed Captions and Details
Audio Language: English
Subtitles: None
Format: Anamorphic Widescreen (No Black Bars on the Top or Bottom)
Region Code: Region 1 (Plays in the USA and Canada)
Disc Format: Regular DVD 
Condition: Brand New and Sealed
hogan's heroes dvd series hogans heroes complete series dvd hogan's heroes the complete series mega pack dvd hogans heroes the complete series dvd  hogan's heroes on dvd hogan heroes dvd walmart hogan's heroes dvd complete series hogan's heroes complete series hogan's heroes complete series box set hogan's heroes hogan's heroes box set hogan's heroes complete series hogan's heroes complete series dvd hogan's heroes complete series dvd set hogan's heroes dvd box set hogan's heroes dvd collection hogan's heroes dvd complete series hogan's heroes dvd series hogan's heroes on dvd hogan's heroes season 1 hogan's heroes seasons 1 6 hogans heroes dvd hogans heroes complete series hogans heroes dvd hogans heroes dvds hogans heroes the complete series dvd hogans heros hogans heros complete series