The Four Feathers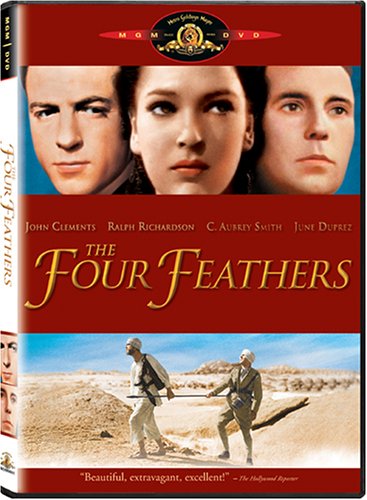 Product description
Sealed in DVD jewel with a Spanish worded movie cover. Spanish sub, ENGLISH speaking , NTSC, Multi region. Remastered from original. LATIN IMPORT with authors rites NO RETURNS on opened items.Return postage buyers responsibility
Amazon.com
Some movies you just have to love. Oh, they may be well, even beautifully, made; wonderfully cast and stirringly acted; uplifting in theme and noble in motive. That's fine. In fact, that's great. For that, you admire them. But you love them because they are perfect distillations of a mood, of a moment in the history of filmmaking, of a breed of imagination that, like the best of fairy tales, transcends the tides of taste and empire, and certainly of political correctness.
Consider The Four Feathers, produced in England in 1939, at Alexander Korda's London Films studios, where a family of Hungarian expatriates aspired to exalt their newly adopted country, its history and traditions, and also to out-Hollywood Hollywood. With this film, they realized both ambitions, in spades.
A.E.W. Mason's novel of stiff-upper-lip honor and valor had already been filmed three times (and at least that many remakes have followed, superfluously). This is the only version that matters. On the eve of the British army's departure to reconquer the Sudan, a young lieutenant descended from a long line of military heroes resigns his commission and is tendered a white feather--the symbol of cowardice--by each of three brother officers. From his fiancée's plume he plucks a fourth, then fades out of their lives... to embark, a year later, on a private quest that will carry him down continents and through unimaginable sacrifice to hard-won redemption.
John Clements (who never had much of a film career) is excellent as the tormented Harry Faversham. But it's Ralph Richardson, as Harry's romantic rival John Durrance (wonderful names!), you'll cherish--he and that spitting image of the Duke of Wellington, C. Aubrey Smith, whose blustery recollections of the Crimean War strike a satiric yet affectionate keynote. Directed by one Korda brother, Zoltan--who shot spectacular sequences in the Sudan--and exquisitely designed by another, Vincent, The Four Feathers is a Technicolor milestone, and its music score is an early triumph by one of the Kordas's legion of Hungarian-expatriate helpmates, Miklos Rosza. --Richard T. Jameson
None.