The Namesake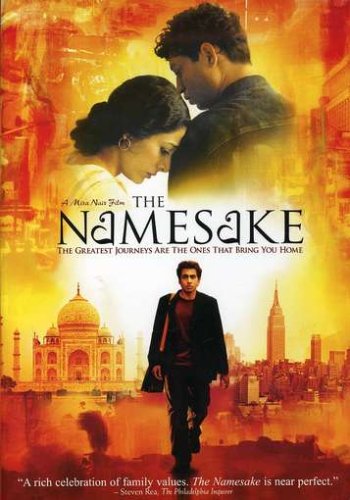 Product Description
American-born Gogol, the son of Indian immigrants, wants to fit in among his fellow New Yorkers, despite his family's unwillingness to let go of their traditional ways.
Amazon.com
Adapted by screenwriter Sooni Taraporevala from the novel by Jhumpa Lahiri, director Mira Nair's The Nameksake is populated by well-drawn characters and filled with memorable shots and engaging scenes. But in the larger sense, the film is a provocative look at the two sides of immigration: the adjustments faced by a couple who move here from a distant land, and the struggles of their offspring to reconcile their parents' traditional culture with their own distinctly American outlook. The tale begins in the late '70s, when aspiring engineer Ashoke Ganguli (Irfan Khan) and his new wife Ashima (the radiant Tabu) move to New York from Calcutta. Life in America is strange, in ways both good (the gas in their apartment stays on 24 hours a day! You can drink water straight from the tap!) and not-so-hot (New York's winters). But for their children, first son Gogol (a standout performance by Kal Penn, heretofore best known for the stoner comedy Harold & Kumar Go to White Castle), nicknamed for his father's favorite author, the Russian novelist Nikolai Gogol, and then daughter Sonia (Sahira Nair), "the American way" is at odds with their folks' more conservative mores. Gogol (who later adopts his more formal first name, Nikhil) smokes dope, calls his parents "you guys," goes to Yale, and hooks up with a preppie white girl (Jacinda Barrett); for her part, Sonia complains that she wants to "go home" when the family returns to India for a visit. Only when tragedy strikes suddenly does the young man realize how totally alienated from his family he has become, prompting some major changes. There's nothing especially original about any of this, and even those who haven't read the book may sense that some of Lahiri's material has been lost on the way to the screen (the treatment of Gogol's marriage to a beautiful Bengali-American girl, played by Zuleikha Robinson, seems oddly truncated). But even while dealing with life's Big Issues (birth and death, marriage and separation, joy and misery), Nair has created a winning, intimate film that reminds us of the strength of family ties and effortlessly persuades us to care. --Sam Graham


Kal Penn Blogs About The Namesake


Welcome to The Namesake DVD. After touring the festival circuit last year, our film opened globally (including North America) in March of this year, and I'm proud to bring you the DVD!

This is a project that has been close to me from the beginning. I was a big fan of the book ever since John Cho recommended it to me during the first Harold & Kumar shoot. John and I tried to get rights to turn the book into the film, but Mira [Nair, director of Monsoon Wedding and Salaam Bombay] had already acquired them. That began a really aggressive campaign on my part to try to get seen for the role. I'd call Mira's office, have my manager call – but we had no luck in getting in the door. Luckily, unbeknownst to me, Mira's son Zohran and her agent's son Sam were lobbying on my behalf (turns out they are huge Harold and Kumar fans, so they were trying to get their parents to bring me in to read for the part of Gogol). Mira finally agreed, and I got a call saying that I'd be able to audition. I flew out to New York, and luckily things worked out.

There are some similarities between my life and Gogol's. We are both Americans of Indian descent, both born and raised on the East Coast, both bilingual, and both passionate about our careers. But Gogol is much more subdued than I am; he carries a certain silence (which he gets from his father). His place in the world is one of constant shift -- a byproduct of being single in New York, being passionate about his job, close with his family, and so on.

This film is my favorite to -date. Mira has been a role model of mine since I was very young, Jhumpa [Lahiri, author of The Namesake] is one of my favorite authors, Sooni [Taraporevala, screenwriter for Salaam Bombay] one of my most admired screenwriters, so it's an honor to have the chance to be part of the screen adaptation of this story.

To me, it's a very American film. It's about family, about hope – about how we all got here, through the lens of this particular family. With so much negativity every time I turn on the television, I'm proud to be part of something that hopefully leaves the audience with a tremendous amount of hope, and a connection to the people we love. -- Kal Penn


None.