Underworld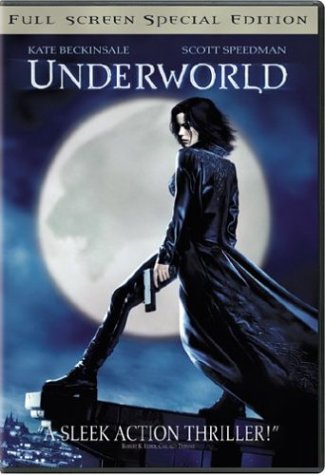 Product Description
In the Underworld, Vampires are a secret clan of modern aristocratic sophisticates whose mortal enemies are the Lycans (werewolves), a shrewd gang of street thugs who prowl the city's underbelly. No one knows the origin of their bitter blood feud, but the balance of power between them turns even bloodier when a beautiful young Vampire warrior and a newly-turned Lycan with a mysterious past fall in love. Kate Beckinsale and Scott Speedman star in this modern-day, action-packed tale of ruthless intrigue and forbidden passion ­ all set against the dazzling backdrop of a timeless, Gothic metropolis.
Additional Features
The Underworld DVD has a powerful soundtrack that makes good use of ambient noises (e.g., bullet casings pinging on the floor) and has a clear, well-defined picture, which is especially impressive considering the film's predominant look is black leather at nighttime. The first segment of the four-part, 54-minute documentary is mostly self-congratulation and plot summary (which is not necessarily a bad thing); more interesting are the creature effects and the actors learning how to do their own stunts. If you were wondering if the voice of the Lycan Raze was really that deep, you can listen to him--actor/co-writer Kevin Grevioux--along with director Len Wiseman and co-writer Danny McBride on the first commentary track as they discuss breaking the rulebook for vampires and shooting in Budapest on a tiny $22 million budget. The accent-heavy technical commentary discusses how the visual effects and sound design add to the film--one of their goals was to make Kate Beckinsale look "sexy, stylish, and subversive." --David Horiuchi
"The Making of Underworld" featurette Creature effects featurette Stunts featurette Sights and sound featurette Storyboard comparison Finch music video: "Worms of the Earth"