Wedding Crashers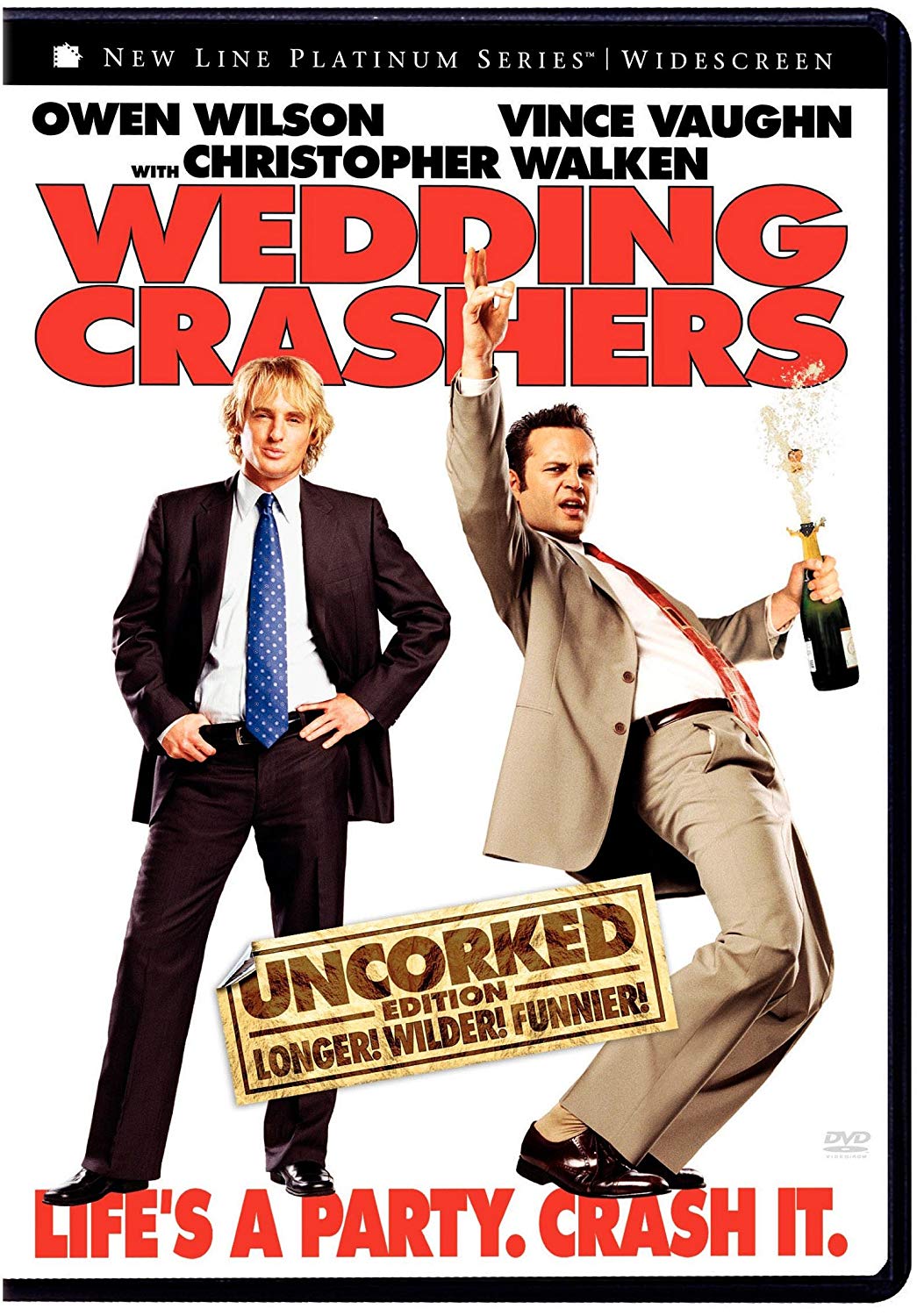 Product Description
Wedding Crashers (DVD) (WS) (Unrated)
Academy Award-nominated Owen Wilson and Vince Vaughn star as John Beck with and Jeremy Klein, two partying divorce attorneys - and committed womanizers - who have figured out a surefire way to meet women: they crash weddings. But the guys' happy-go-lucky lives change abruptly when John unexpectedly falls in love with a bridesmaid. Things become even more complicated when the men discover that the object of John's affection is the daughter of the US Secretary of the Treasury. Also starring Rachel McAdams, Academy Award-winner, Emmy Award-nominee, and Golden Globe- nominee Christopher Walken ("The Deer Hunter," "Catch Me if You Can"), Golden Globe-winner and Emmy Award-winnerJane Seymour ("Dr. Quinn, Medicine Woman" "East of Eden"), and Isla Fisher ("Scooby Doo," "The Lookout"). Guest Starring Golden Globe and Emmy Award-nominee Will Ferrell ("Anchorman: The Legend of Ron Burgundy," "Stranger than Fiction").
]]>
Amazon.com
With Vince Vaughn and Owen Wilson as a pair of brazen wedding crashers, this buddy/romantic comedy milks a few big laughs from its foolproof premise. Under the direction of David Dobkin (who previously worked with Wilson on Shanghai Knights), the movie ranges from bawdy romp to mushy romance, and that tonal identity crisis curtails the overall hilarity. But when the well-teamed costars are firing on all pistons with fast-paced dialogue and manic situations, belly laughs are delivered at a steady clip. Things get complicated when the guys infiltrate the family of the Treasury Secretary (Christopher Walken), resulting in a romantic pair-off between Vaughn and the congressman's oversexed daughter Gloria (Isla Fisher) while Wilson sincerely woos another daughter, Claire (Rachel McAdams), who's unhappily engaged to an Ivy League cheater (Bradley Cooper). Walken is more or less wasted in his role, but Jane Seymour and Henry Gibson make amusing appearances, and a surprise guest arrives late in the game for some over-the-top scene-stealing. It's all a bit uneven, but McAdams (considered by some to be "the next Julia Roberts") is a pure delight, and with enough laughs to make it easily recommended, Wedding Crashers will likely find its place on DVD shelves alongside other flawed but enjoyable R-rated comedies that embrace a naughtier, nastier brand of humor with no need for apologies. --Jeff Shannon
On the DVD
The "Uncorked" edition of Wedding Crashers adds about 8 minutes of footage to the theatrical release. Of chief interest are extended beach and bathroom scenes between Vince Vaughn and Isla Fisher, and Vaughn's extended confession to Father O'Neil (Henry Gibson), but there are also new scenes featuring Keir O'Donnell as the eccentric Todd and Ellen Albertini Dow as the potty-mouthed grandmother. This edition is billed as unrated because it wasn't resubmitted to the MPAA, but the sexier bathroom scene and coarser confession aren't particularly raunchier than the original film, and there's no additional nudity. You can watch the Uncorked edition once to see the new footage, but for subsequent viewings you'll probably choose to stick with the theatrical release, which is also included on the DVD.
Bonus features consist of two very good commentary tracks, one by director David Dobkin and another by Vaughn and Owen Wilson. Dobkin's is more technically informative, and he specifically discusses why the added scenes were originally cut. Vaughn and Wilson are a little more subdued than might be expected, but they share some laughs, recall some material that was left out, and wander into irrelevant territory such as football and Wilson's dog. Other features include four deleted scenes with optional commentary by Dobkin, and two featurettes covering the making of the film (including the logistics of staging five different weddings, and interviews with the "magic and balloon consultant") and Vaughn and Wilson's meandering discussion of "the rules" of wedding crashing. For a more organized recap, there's a 24-screen text-only list of all the rules. The opening menu is clever, but slow to load after you've watched it the first time. --David Horiuchi
Audio Commentary: Commentary with David Dobkin Commentary with Owen Wilson & Vince Vaughn Deleted Scenes: 3 Deleted Scenes Featurette: "Event Planning" "A Crash Course in Wedding Crashing" Music Video: Music Video: The Sights "Circus" plus a Interactive Soundtrack Promo Other: Wedding Crashers GameAudio Commentary: Commentary with David Dobkin Commentary with Owen Wilson & Vince Vaughn Deleted Scenes: 3 Deleted Scenes Featurette: "Event Planning" "A Crash Course in Wedding Crashing" Music Video: Music Video: The Sights "Circus" plus a Interactive Soundtrack Promo Other: Wedding Crashers GameAudio Commentary: Commentary with David Dobkin Commentary with Owen Wilson & Vince Vaughn Deleted Scenes: 3 Deleted Scenes Featurette: "Event Planning" "A Crash Course in Wedding Crashing" Music Video: Music Video: The Sights "Circus" plus a Interactive Soundtrack Promo Other: Wedding Crashers GameAudio Commentary: Commentary with David Dobkin Commentary with Owen Wilson & Vince Vaughn Deleted Scenes: 3 Deleted Scenes Featurette: "Event Planning" "A Crash Course in Wedding Crashing" Music Video: Music Video: The Sights "Circus" plus a Interactive Soundtrack Promo Other: Wedding Crashers GameAudio Commentary: Commentary with David Dobkin Commentary with Owen Wilson & Vince Vaughn Deleted Scenes: 3 Deleted Scenes Featurette: "Event Planning" "A Crash Course in Wedding Crashing" Music Video: Music Video: The Sights "Circus" plus a Interactive Soundtrack Promo Other: Wedding Crashers GameAudio Commentary: Commentary with David Dobkin Commentary with Owen Wilson & Vince Vaughn Deleted Scenes: 3 Deleted Scenes Featurette: "Event Planning" "A Crash Course in Wedding Crashing" Music Video: Music Video: The Sights "Circus" plus a Interactive Soundtrack Promo Other: Wedding Crashers GameAudio Commentary: Commentary with David Dobkin Commentary with Owen Wilson & Vince Vaughn Deleted Scenes: 3 Deleted Scenes Featurette: "Event Planning" "A Crash Course in Wedding Crashing" Music Video: Music Video: The Sights "Circus" plus a Interactive Soundtrack Promo Other: Wedding Crashers GameAudio Commentary: Commentary with David Dobkin Commentary with Owen Wilson & Vince Vaughn Deleted Scenes: 3 Deleted Scenes Featurette: "Event Planning" "A Crash Course in Wedding Crashing" Music Video: Music Video: The Sights "Circus" plus a Interactive Soundtrack Promo Other: Wedding Crashers Game Read more Show less